Ceppo wrote:
Another difficult day at the custom!
After having waited for four days, for the tractor to be transported from Tartous in Syria to Jordan (it was supposed to arrive the day after the disembraking from Grimaldi boat, the 15th of Februray, with me, in Jordan), today with a strong team composed by six people from the university of Jordan and myself, we arrived at the Nasib border between Syria and Jordan to finally clear and collect the tractor.... but, we found out that there are 2 customs at less than 5 km one from the other in the same town, and, of course, the tractor was in one and we together with all the paper needed for clearance were in the other. So we spent almost all day discussing the possibility lo unload the tractor in the free zone between Syria and Jordan and clear it in the other custom.
So now the tractor is in the free zone between the two countries, very near to me, as i'm now hosted by NPA in a container 500m away from the border.
Let's hope tmorrow it can enter Jordan and the tests can start.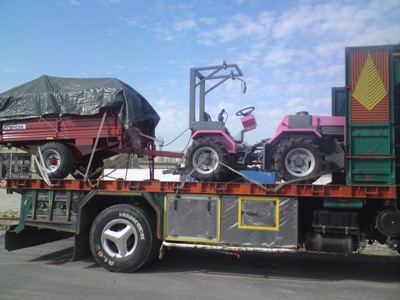 LOCOSTRA and trailer on their way from Syria to Jordan (photo courtesy of Ramy Fahoom)
ciao!
ceppo