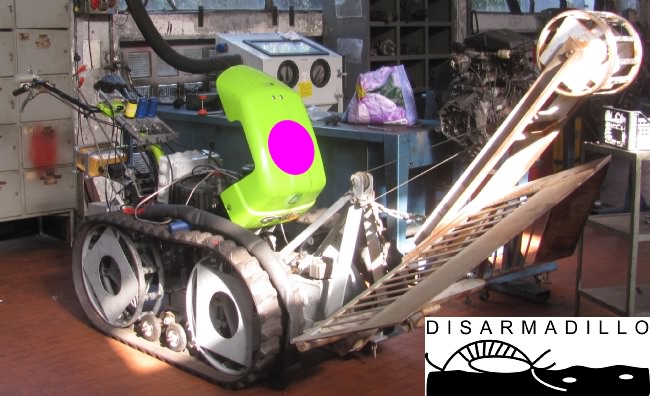 We are working at the smallest and cheapest humanitarian demining machine ever realized, based on a commercial two-wheel tractor, the powertiller, aimed at area preparation in areas contaminated by anti-personnel landmines.
As LOCOSTRA, that was conceived after, Disarmadillo is designed to be appropriate and locally sustainable. Components are either commercial off the shelf or can be easily manufactured in any not specialized local workshop. Disarmadillo is the second version of PAT (Participatory Agricultural Technology) machine, the first open-source machine for humanitarian demining and among the first open-source machines worldwide. The description of the machine is available online in Emanuela Elisa Cepolina's PhD Thesis and the technical drawings are in the Appendix.
Disarmadillo is the first demining machine designed to be re-converted to agriculture when demining is over.
Please visit sub-pages to find what are we working on.
-------
Disarmadillo moved its first steps driven remotely!
After few design iterations of the remote control unit, the final version is ready and working.
The work goes on thanks to the very nice and constant support of prof. Gigi Acquilino, teacher at Odero technical technical high school, thanks to the involvement of Edoardo Del Bianco, who chosed Disarmadillo as argument of his bachelor thesis in mechanical engineering at the university of Genova and thanks to the partners who constantly support us.
We are particularly thankful to Carlo Navire, engineer at Isibond, who came to visit us recently to provide advises on the skid steering system.
-------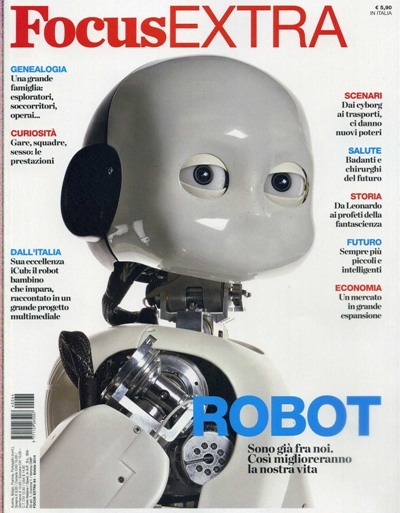 The latest issue of the Italian magazine Focus Extra dedicated to Robots includes a small box about DISARMADILLO