Unfortunately and extremely sadly LOCOSTRA machine at the moment doesn't exist. The first prototype has been dismantled and most pieces have been sold by the producer and the second prototype turned out to be so far away from original requirements that it stopped being LOCOSTRA.
What you can read in these pages largely refer to LOCOSTRAv1, the original pink machine. If somebody is interested in working on a new LOCOSTRA, following the vision that originated the project is welcome to contact us.

The first remotely controlled machine designed for technical survey, area preparation and agriculture:
a small pink revolution in HUMANITARIAN demining
-------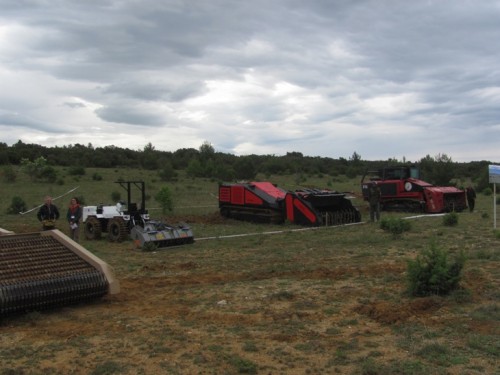 On the 24th of April, LOCOSTRAv2 was presented at the 11th International Symposium Mine Action 2014 in Zadar. LOCOSTRAv2 is undergoing extensive pre-tests in Italy and is ready to be brought o the field
LOCOSTRA received interest also from the Croatian TV:
RTL: https://www.youtube.com/watch?v=pUy_ar5I9DU&feature=youtu.be
HRT: https://www.youtube.com/watch?v=glFGAI90fxc&feature=youtu.be
-------
SpaceTech, a partner of the TIRAMISU project has produced a short video on the explosion tests we had on the 11th and 12th of July 2013 on two new designs of blast resistant wheels.
-------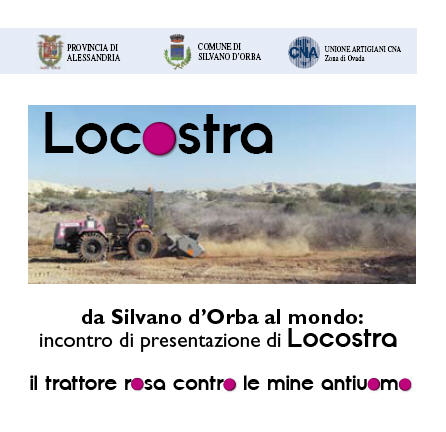 We are very happy to participate to an event on LOCOSTRA organized by the Municipality of Silvano D'Orba the town where PIERRE Trattori is based.
The event will take place on the 25th of February 2012 at 15.00.
Everybody who is curious about the project is welcome!
Click here for the invitation and here for the poster
-------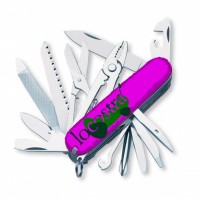 click here for the new pamphlet that will be presented at the 11th Meeting of State Parties in Phnom Penh, Cambodia, 28 nov. - 2 dec. 2011.
-------
LOCOSTRA in South East Asia?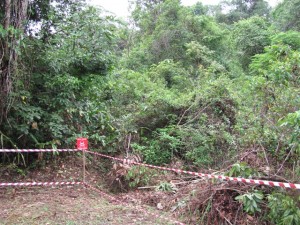 Trat province, Thailand
Emanuela is back from 6 weeks in Thailand, Cambodia and Laos. During this time she had the chance to visit several mine action entities (mine action centres and NGOs) interested in buying LOCOSTRA.
Due to the overall presence of very thick vegetation, the prime use of LOCOSTRA would be in area preparation by vegetation cutting.
Thanks to LOCOSTRA agility (radious of curvature < 3m, achieved by double steering system) and FAE mulcher cutting capacities (grinding up to 200mm diameter trunks), LOCOSTRA plus FAE mulcher could be efficiently employed to selectively cut the vegetation before demining takes place, avoiding big trees protected by national law. Moreover, thanks to the low cost of deploying the machine (for short distances can be driven on board) and for running the machine (fuell consumption of 14 l/h when achieving a clearing rate of 1500m2/h), vegetation removal could be done on a large scale helping saving precious time.
The Thailand Mine Action Centre expressed desire for a demonstration of LOCOSTRA effectiveness in Thailand. We would be very happy to bring the machine in South East Asia and show its capabilities, but, due to the nature of the project (R&D project ended in May 2011), we are not able to cover the cost (approx. 12000€). If any of the entitiy that would be interested in using the machine is interested in sharing the costs of the demonstration, please contact us at snailaid@gmail.com or at the phone number +39 3331655089.
-------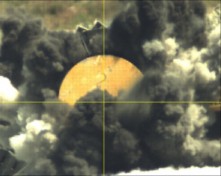 The paper on blast resistant wheels test is finally online on the Journal of Mine Action.
Unfortunately, the printed edition contains mistakes, so please refer to the online version only, which has been corrected.
The paper can be read online here
-------

LOCOSTRA is now ready to be sold at 50.000€.
LOCOSTRA is produced by PIERRE TRATTORI and sold with the help of Snail Aid, that is also responsible for the quality functional deployment and the training.
To know more on LOCOSTRA you can download the pamphlet by clicking on the first page above or download a ppt from here or see the video hereafter:
For more information please contact Emanuela at snailaid@gmail.com.
-------
LOCOSTRA has been exhibited at the 8th International Symposium on Humanitarian Demining in Sibenik Croatia on the 26-28 of April 2011. As far as we could appreciate it, LOCOSTRA received a lot of interest by the participants.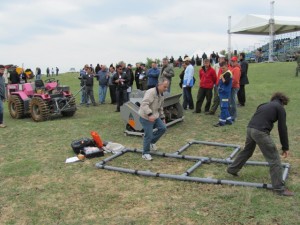 -------
LOCOSTRA is now back in Italy, although not yet back to Pierre site. Hopefully within the next days we should be able to get it out from the 20" container with which it arrived in Genova by Messina lines.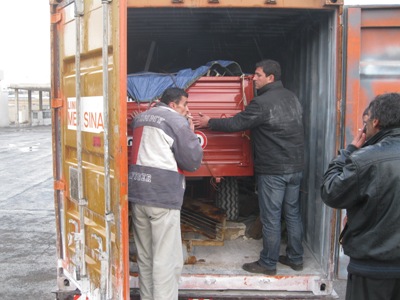 -------
LOCOSTRA is on its way to the minefields in Jordan for the final test!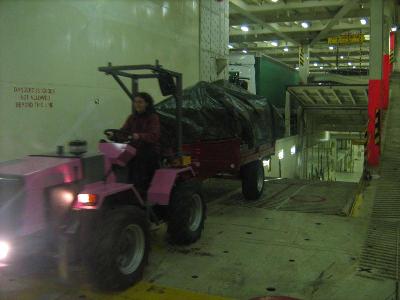 LOCOSTRA exiting Grimaldi boat in Tartous Syria (photo courtesy of Ramy Fahoom)
LOCOSTRA equipped with a trailer containing FAE mulcher, Ebinger large loop detector, 4 blast resistant wheels and a frame lplus hoist to mount on the tractor to lift heavy equipment from the trailer, has left Italy on the 10th of February 2010 from Livorno port. After a wonderful cruise with Grimaldi boat, it arrived in Tartous in Syria on the 15th of February, where LOCOSTRA and Emanuela got off.
Updates on Jordanian test in the blog section.
-------
Happy Birthday to LOCOSTRA project!!
The project started one year ago and the tractor is almost ready..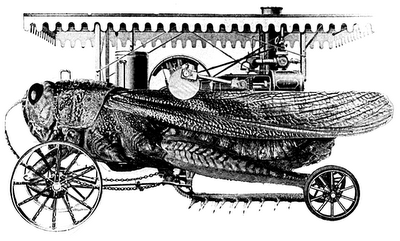 We would like to thank very much indeed all the partners and people who have been collaborating with us until now. So thanks a million to:
Matteo Zoppi, Vittorio Belotti, Paolone Barigelli Calcari, Francesca Bagnoli (University of Genova), Gianni e Andreina Polentes (Pierre Trattori), Andy Smith (AVS Mine Action Consultants), Ed Pennington Ridge (Elegant Design), Mr. Ross Macmillan (University of Melbourne), prof. Snobar (University of Jordan), Danilo Coppe e Cristina Pomponi (Istituto Ricerche Esplosivistiche), Gil Emantaev (Emaro student), Per Håkon Breivik, Stephen Bryant, Heinie Truter (Norwegian People's Aid), SIMVAR, FAE - Advanced Shredding Technologies and the Italian Institute for Foreign Trade and the Italian Minsitry for Econcomic Development.
Our recent achievements are:
- The second test on the refined version of blast resistant wheel on the 12th of November 2010 (soon news on the webpage)
- The first test on remote control
- The agreement with FAE for testing one of their vegetation cutting tools with the tractor in Jordan
- An agricultural derived mine sweeping tools built by Mr Ross Macmillan at the University of Melbourne
-------
Welcome to Locostra (Low-cost Tractors for Humanitarian Demining) project co-funded by the Italian Ministry of Economic Development and the Italian Institute for Foreign Trade.
The main requirement we are trying to fulfill is to produce a machine costing 50.000€, safe and reliable to perform ground processing in humanitarian demining.