Test

Apart from the tests with TNT in powder we are doing in Italy with the precious support of Danilo Coppe and its collaborators from the Italian Institute of Explosive Research and of the Technical Department of the Italian Ministry of Defence, we always seek in-field tests, as we believe that only operations in mine affected countries can raise confidence in the machine.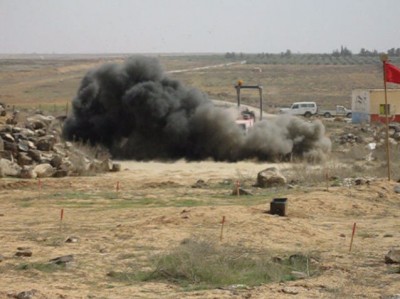 LOCOSTRAV1 driven over live AP mines (PMN with a M14 on top) in Jordan, February 2011.
Between February and March 2011, in the context of LOCOSTRAV1 project, we tested the tractor in Jordan in the minefields at the border with Syria with the support of Norwegian People's Aid, the National Committee for Demining and Rehabilitation and the University of Jordan.
More on these test results has been presented at the 8th Symposium on Humanitarian Demining 2011 held in Sibenik, Croatia on 26-29 of April 2011. The paper can be downloaded by clicking here.
Within TIRAMISU project (LOCOSTRAV2) we are planning to bring the machine in Croatia, Bosnia Herzegovina and Cambodia for long lasting operational tests.
Preliminary results of tests undergoing in Italy can be seen in the video below